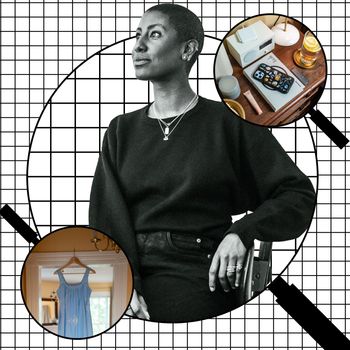 Photo-Illustration: by The Cut; Photos: Jesica Wagstaff
For more of the Cut's favorite fashion, beauty, and home finds, sign up for the weekly Cut Shop Newsletter.
Jesica Wagstaff can talk about fashion and shopping for hours — and she does on her TikTok. Wagstaff became a content creator by accident during the pandemic when she started making videos of her outfits to share with her friends. Now, she shares her thoughtful fashion takes and stylish outfits with her 81,000 (and counting) followers.
Her wardrobe is grounded and classic. She's constantly mixing high and low staples, only adding in pieces that truly complement the rest of her closet. That's why shopping for Wagstaff is all about being intentional to the point of obsession. How else will she know what is worth buying in every color? "I prefer to obsess. I put it in my cart and take it out and put it on Pinterest. I really grapple with every purchase beyond my basics," she shared with the Cut. And that's why she has so many people asking her, "Where did you get that?"
Below, see where Wagstaff got the pieces that made it into her curated wardrobe.
Ottolinger jeans. I bought the Ottolinger wrap jeans in blue and bought another wash that came out this year. I have a jeans addiction. If there's a pair that I like, it's hard for me to talk myself out of buying them. I bought these from Garmentory, but I think I also bought a pair from Stand Up Comedy in Portland. They're not the most practical purchase, but I will wear them into the ground.
Memor Studio. I had to buy one in black to match my Ottolinger bag. I have a few cases and their Crocs charms. It's not practical and it's kind of heavy, but it looks good, and I get compliments on it. It feels like you're carrying a piece of art with you.
My Ottolinger bag is from Ssense. It feels like a really thick, stiff rubber, and it's both practical and impractical. I have a small Brandon Blackwood wallet I can throw in there, a lipstick from Violette_fr, and my keys, and that's it. If I can fit it, or if I use another bag, I usually have sunglasses, my Ray-Bans or Akila L.A. shades. The easiest way to look pulled-together but aloof is to always have a pair of sunglasses.
My Stella McCartney dress is from Louise in Paris. We were walking around Paris near our hotel and walked by the shop. It has a very beautiful, soft, feminine aesthetic. I was ready to buy men's shirts and pants, everything really oversize, but then I saw this in the back and thought I had to have it. It's a very pretty, extremely feminine, but wearable dress. It's one of those perfect dress-up, dress-down maxi dresses.
Kismet Olfactive, Nympheas. There's a quiet strength about it; it's present but not overpowering. I don't think it's a skin scent, but when people hug me they say I smell good. It's a soft floral that reminds me of East Coast spring. There's a warmth to it but a little bit of a bite. This is how I want people to feel when they're around me: welcomed and warm.
From an antique shop in Fredericksburg, Virginia. It's very old and I probably should take better care of it because I put my drinks on it. I keep a round marble tray from Target on it, my Soft Services hand cream, and a Vitruvi diffuser and humidifier.
I make my dog's bed and then do a full skin-care routine. That's a Grown Alchemist cleanser, P50 toner, and U Beauty's toner, moisturizer, and eye cream. I'm usually pretty particular about pajamas. I do a set or a nightgown. My favorite is from Arket; it's the perfect oversize set, and it looks so pulled-together even if you've been in bed all day. I put on my AirPods Max and put on binaural beats, and I'll go on Apple News and I'll read the Cut or whatever I'm reading now.
Lauren Manoogian. When it's cooler, I like to wear their cotton-wool blend turtleneck. I also have one of their alpaca cardigans that I live in in the fall and winter.
My Elsa Peretti bean necklace is from Tiffany & Co. It's easy to tuck into a regular crewneck and let a more statement piece take center stage. This is where my jewelry becomes a little bit unhinged, because in order to make one piece work, I need to add more pieces to make them blend. I refuse to take it off.