Gift will fund pilot studies, scholarships
Dr. Timothy Murphy is director of University at Buffalo's Community Health Equity Research Institute, launched in 2019 to conduct research that addresses the root causes of the region's health disparities.
Vicki Murphy, a UB School of Nursing graduate, is a psychiatric nurse practitioner who has been working with the region's children and adolescents for almost three decades, seeing the need for mental health support for area kids and their families.
The husband and wife recently provided a $500,000 gift to UB, which will fund pilot studies in the Community Health Equity Research Institute, as well as scholarship opportunities in mental health nursing in the School of Nursing.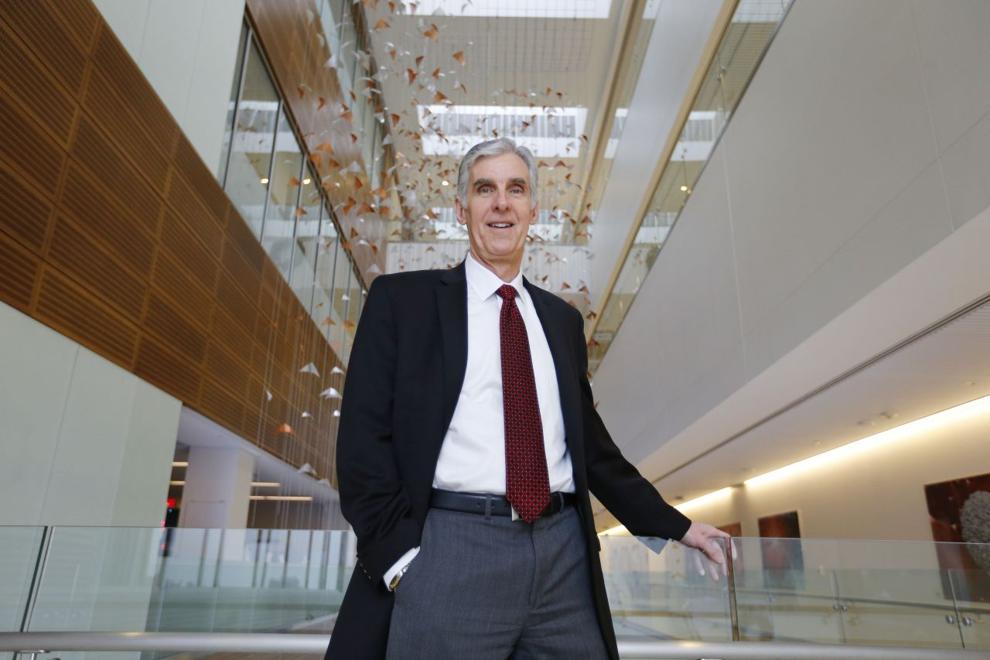 Those funds will go into the endowment, which will gain interest while seeking additional contributions from other donors. Then, the pilot studies and scholarships will be supported by the endowment's earnings each year.
To start, $100,000 of the money will be spent in the first year, which just started. The plan is for $75,000 of the initial funds to be spent on pilot studies, and $25,000 to go toward scholarships.
The scholarships will go to nurse practitioner students focused on mental health, with the condition they work in a Buffalo community in need. 
"Our region has a serious shortage of mental health care for children," Vicki Murphy said. "Nurse practitioners play an especially important role in working with children and families with mental health needs. The underserved communities in Buffalo are disproportionately impacted by this shortage."
And while the Community Health Equity Research Institute already works with faculty from all 12 UB schools, the funds from the Murphys also are geared toward enticing more UB experts to do health disparities research. 
"An important goal of our institute is to develop innovative solutions to reduce health disparities and test those interventions to determine which ones work," Timothy Murphy said. "The intent of offering pilot studies is to support research that will generate larger grants and projects that will lead to fundamental, systemic changes that will be required to eliminate race-based health inequities."
A reorganized executive team at Sasi
Jeff Paterson became president and CEO of Sasi a little more than a year ago, taking the helm as longtime chief executive Anthony Annunziato retired from the Elma-based organization.
In late July, Sasi announced that Paterson had reorganized the agency's executive team "with the goal of guiding a new era for the organization," which provides support and services to more than 2,000 people with developmental disabilities in Western New York.
The moves come after several departures at the organization. In addition to Annunziato retiring, Executive Vice President Karen Gustina and Vice President Patty Watkins departed. Chief Financial Officer Shawn Cunningham also announced he is leaving the agency later this year. Those four executives had more than 125 years of service to Sasi, creating the need to build a new team, the organization said.
Paterson looked within the organization first. He promoted Executive Vice President Barbara Lamoreaux to chief strategy officer; Vice President of Development and Marketing Lynn Kelly to chief development officer; Vice President of Quality Assurance and Incidents John Bowles to chief compliance officer; and Associate Vice President of Payroll Amanda Kinmartin to chief financial officer.
Sasi also recruited outside for two new positions, hiring Susan Mentecki as chief program officer and Karen Keyes as chief people officer.
"I think we've got the makings of a dream team here," Paterson said in a statement. "We'll be working hard to make sure the dream comes true."
Sasi, started in a Springville garage in 1974 with three staffers, now has about 800 employees.
$200,000 TV donation in Niagara Falls
Niagara Falls Memorial Medical Center is currently installing more than 270 TVs in various areas throughout its medical campus, following a $200,000 donation from restaurateur and philanthropist Russell J. Salvatore in April. 
The TVs are being installed in patient hospital rooms, resident rooms at Schoellkopf Health Center and in common areas. The televisions, which range in size from 16 inches to 50 inches, will be equipped with "a wellness network for patients and their families to access educational and informative content prior to discharge," the medical center said.
The TV installation project should be done by the end of August.
Salvatore, who has donated big money before to Western New York hospitals for new TVs, has a history of contributing to Niagara Falls Memorial. For instance, Salvatore in 2019 contributed to the construction of the Russell J. Salvatore Welcome Center, a 1,500-square-foot upper lobby and visitor check-in area at the hospital.
Welcome to Buffalo Next. This newsletter from The Buffalo News will bring you the latest coverage on the changing Buffalo Niagara economy – from real estate to health care to startups. Read more at BuffaloNext.com.
THE LATEST
Spectrum is raising its rates.
Legal cannabis delivery service comes to Western New York.
State auditors didn't like what they saw at the Chautauqua County Industrial Development Agency.
Villa Maria College pursues starring role training Buffalo film workers.
The developer of an North Oak Street project made a big shift.
The job market is promising for displaced Yellow Corp. mechanics.
Amherst is getting a new community theater.
William Hochul, the governor's husband, is leaving his job at Delaware North.
A big federal payment will solidify pensions for about 10,000 local workers.
National Fuel plans to slow its natural gas drilling program with prices low.
Douglas Jemal was picked to develop the former Black Rock Academy site.
The new Pegula Sports + Entertainment leaders discussed their plans.
A new federal Medicare payment system will mean big money for local hospitals.
A Broadway food mart plans a $1.7 million expansion.
Roswell Park Comprehensive Cancer Center fell in a popular hospital ranking.
Yellow Corp., which has trucking operations in Buffalo, is shutting down.
How high-stakes negotiations between UAW, automakers will affect the Buffalo Niagara region.
ICYMI
Five reads from Buffalo Next:
1. Behind the meteoric rise of John Roth at Pegula Sports + Entertainment.
2. Tops Markets has a new CEO – and he has a plan.
3. The housing market may be taking a dip nationally, but not in the Buffalo Niagara region.
4. Cannabis growers aren't getting much of a spark from the state's plan to allow pot-only farmers markets.
5. Growth from afar: Inside Hilbert College's deal with Valley College.
The Buffalo Next team gives you the big picture on the region's economic revitalization. Email tips to [email protected] or reach Buffalo Next Editor David Robinson at 716-849-4435.
Was this email forwarded to you? Sign up to get the latest in your inbox five days a week.