The Information Technology sector will be in focus for the market over the next two weeks, as Apple, IBM, Intel, and Microsoft are all scheduled to report earnings during this period.
Coming into the earning season, nearly 50% (22 out of 45) of the companies in the Information Technology sector that issued EPS guidance for the third quarter issued positive EPS guidance. In aggregate, analysts increased earnings estimates for companies in this sector by 4.1% during the quarter. As a result, the Information Technology is reporting year-over-year earnings growth of 4.8% for Q3 today, compared to expectations for earnings growth of 0.4% on June 30.
At the industry level, four of the six industries in the sector are reporting (or are expected to report) a year-over-year increase in earnings: Communications Equipment (17%), Software (16%), IT Services (5%), and Technology Hardware, Storage, & Peripherals (<1%). On the other hand, two industries are reporting (or are predicted to report) a year-over-year decline in earnings: Electronic Equipment, Instruments, & Components (-12%) and Semiconductors & Semiconductor Equipment (-3%).
At the company level, NVIDIA is projected to be the largest contributor to earnings growth for the sector. The company is expected to report EPS of $3.32 for Q3 2023 compared to EPS of $0.58 in Q3 2022. If NVIDIA were excluded, the Information Technology sector would be reporting a year-over-year earnings decline of -2.9% instead of earnings growth of 4.8%. NVIDIA is scheduled to report earnings on November 21.
NVIDIA is also expected to be the largest contributor to earnings growth for the entire S&P 500 for Q3. If this company were excluded, the blended earnings decline for the S&P 500 for Q3 would increase to -1.8% from -0.4%.
Looking ahead for the sector, analysts are predicting earnings growth rates of 13.4%, 17.4%, and 13.7% for Q4 2023, Q1 2024, and Q2 2024, respectively.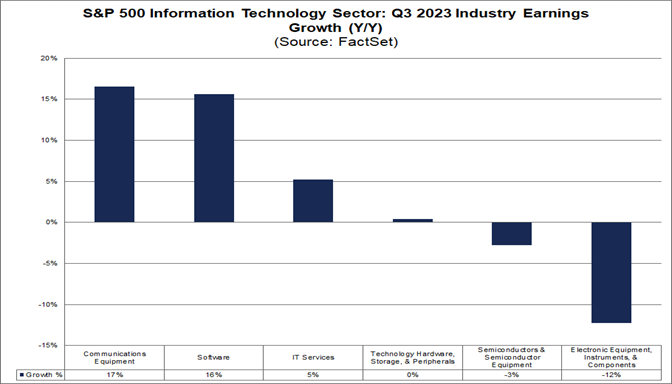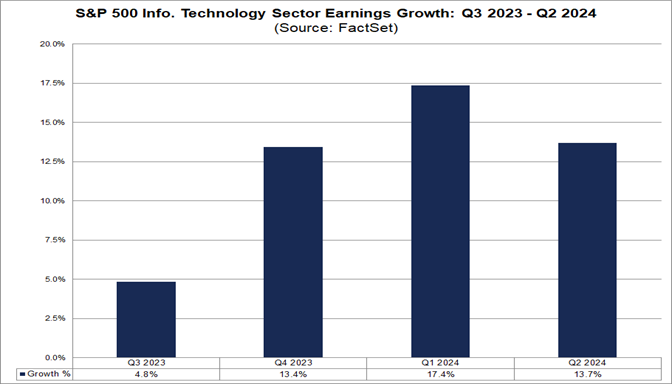 This blog post is for informational purposes only. The information contained in this blog post is not legal, tax, or investment advice. FactSet does not endorse or recommend any investments and assumes no liability for any consequence relating directly or indirectly to any action or inaction taken based on the information contained in this article.